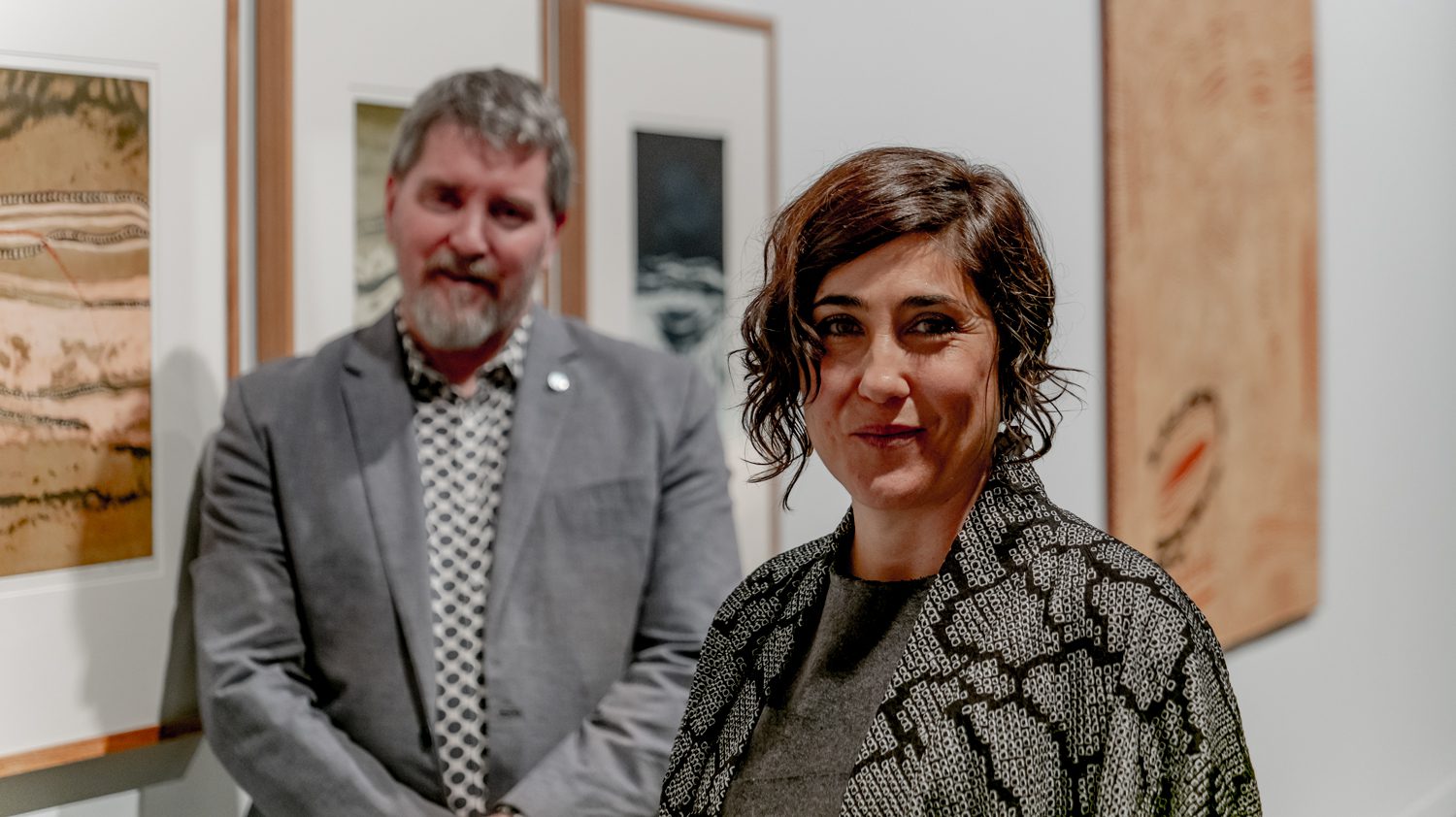 CURATOR'S ESSAY
Director, Chris Malcolm & Collection Manager, Lia McKnight
Since we launched the 50fifty Acquisition Initiative in 2017, the world has changed a great deal, yet also very little – though perhaps our individual perspective on our place within the worldwide community will never be the same. In the midst of an unprecedented global pandemic, and its disastrous economic fallout, it is perhaps not surprising that from some quarters there seems to be an urgency to justify the relevance of art and art collections. Many artists and arts workers have been profoundly impacted by the pandemic's necessary isolation measures and the future of our industry seems more fragile than ever with limited industry support, and the cost of an Arts degree set to rise significantly from 2021. The wider public opinion of art seems to have fared little better and artists were recently deemed the most nonessential of all workers in a much-publicised but questionable COVID related survey. But in times of social and political turmoil, is art not needed more than ever? In the words of renowned durational performance artist, Marina Abramovic, "The function of the artist in a disturbed society is to give awareness of the universe, to ask the right questions, and to elevate the mind."[1]
Art Museums in turn, have the essential task to nurture and document the visual culture of our time.
The 50fifty Acquisition Initiative was launched to celebrate the 50th Anniversary of Curtin University and the central role that the Art Collection plays in defining the University's character and cultural value. It has enabled us to bring both our Collection development and Exhibition programming intentions closer together, realigning focus on the Gallery's capacity to inform and inspire transformation. Through our generous supporters, over the last three years we are delighted to have acquired over 200 artworks. In celebration of the Initiative's success, we have selected 50 works to form the exhibition 50fifty:2020, which we feel is the ideal project to relaunch the John Curtin Gallery's 2020 exhibition program, post COVID closedown.
We set out with a particular focus that defined our approach to purchasing works and accepting donations through this initiative, expanding upon our ongoing commitment to excellence and the documentation of important developments in contemporary Australian and International Art. At the heart of our vision was a desire to develop a culturally significant collection that represents the complex and rich dynamic of cross-cultural and multi-cultural practice within Australia, and the Indian Ocean and SE Asian regions. We also wanted to supplement and strengthen The Herbert Mayer Collection of Carrolup Artwork with relevant works of art including contemporary Nyungar and other Aboriginal Art that adds to our knowledge of Stolen Generations; and to celebrate our dynamic and world class exhibitions program through acquisitions of works from artists who have partnered with us for major exhibitions across the Gallery's 22 year history.
Against a backdrop of growing political and economic instability, ecological catastrophe, humanitarian crises and ongoing inequalities based on race, sexuality and gender, the last three years have witnessed increasing civic pressure on governments and corporations around the world to redress prevalent inequities and environmental negligence.  These widespread problems are largely the deleterious legacy of colonisation and its deeply embedded and stubbornly residual hierarchies of privilege and exploitation.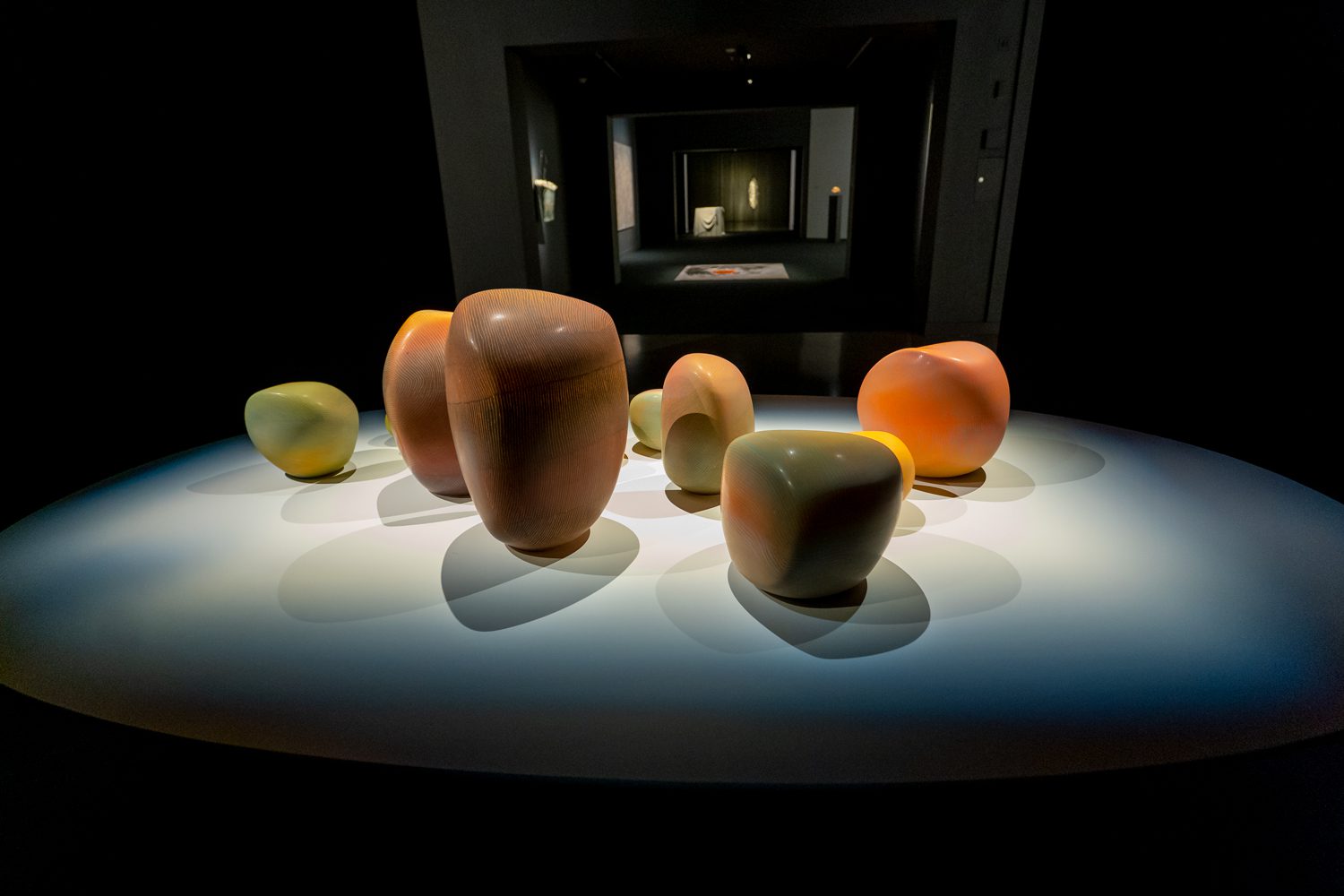 Unsurprisingly, these issues were interrogated most assertively in our exhibitions program by notable First Nations artists: Lisa Reihana (Maori); Brian Robinson (Torres Strait) and Christian Thompson (Bidjara). Each exhibited complex and sophisticated bodies of works at the John Curtin Gallery, from which significant works were purchased for the University's Art Collection. Both Robinson and Thompson generously donated significant additional works through the Federal Government's Cultural Gifts Program and we were pleased that an edition of Lisa Reihana's In Pursuit of Venus [Infected], 2015-2017 remains in Western Australia, having been acquired by the Kerry Stokes Collection. Reihana's major video work, 10 years in the making, is an extraordinary reimagining of the European narrative of Pacific colonisation.
Ian Strange, one of our 2020 Perth Festival exhibiting artists, also matched purchased works with donations. From the 5 works acquired, the work we have selected for this exhibition, RUN, 2015 is a bleak reflection of the corruption and greed within the global banking system that led to the foreclosure of approximately four million homes across the USA, between 2008 – 2012.
Other potentially catastrophic global issues, such as the effects of global warming are subtly highlighted in the exhibition through works that document fragile marine, rural and desert ecologies, notably by Julie Gough, Brian Robinson, Warrick Palmateer, Pippin Drysdale and numerous desert painters that depict aerial views of country. The devastating bushfires that recently raged across our continent exposed the urgent need for effective land management practices and many district bodies are increasingly turning to the depth of knowledge held by traditional custodians who have expertly used burning practices over thousands of years to ensure the ecological health and sustainability of country. Ngamaru Bidu depicts these practices in her paintings and is herself a ranger, one of a number responsible for maintaining vast areas of Martu country. The politics around climate change are further interrogated by Mike Singe through his carbon or 'soot' drawings from the Twenty Twenty Vision series. The works parody political commitment to climate action by visualising the carbon reduction targets of specific countries. The image of Australia's Golden Wattle (Acacia pycnantha) for example, takes up only 5% of the total surface area of the drawing, matching Australia's commitment of a 5% reduction on 2000 levels.
In many ways, the most generous support that the John Curtin Gallery can offer artists is in sharing their vision with audiences through our exhibitions program, and a number of exhibiting artists have in turn supported us through personal donations of their work. Aida Tomescu, one of the Australia's greatest living painters, has recently donated two large drawings – the last white pastel works in her private collection, which followed on from her Dobell winning drawings – and a major painting, Ultraviolet 2009 which takes centre stage in this exhibition. This incredible generosity was prompted by the conservation and display of a privately donated work by Tomescu, dating from the 1980's that was showcased in the Collection exhibition, ASSEMBLAGE at JCG in 2016.
Numerous artists in 50fifty:2020 have a long-standing connection to the Gallery, having  presented major solo exhibitions with us over the last two decades, including Brian Blanchflower, Cathy Blanchflower, Theo Costantino, Pippin Drysdale, Susan Flavell, Warrick Palmateer and Miriam Stannage. The purchase of a significant collaborative painting from the Spinifex Arts Project in the remote Western Australian Aboriginal community of Tjuntjuntjara (1,300km east of Perth in the Great Victoria Desert), has been a long held ambition since the major Spinifex survey exhibition at the John Curtin Gallery in 2012. We are thrilled that this ambition is finally realised through the generous support of our donors, with a women's collaborative work currently in progress.
Two works, 500 Books, 2017 by Abdul-Rahman Abdullah and Larngerner (The Colour of Country), 2018 by Julie Gough were featured in the 2018 exhibition Directors' Cut, having been identified as desirable future acquisitions and we are pleased to see this come to fruition. Both artists are Curtin University Alumni and it is testament to the strength of talent that has emerged from the Fine Art Department (throughout its various incarnations since 1968), that they are among many artists in this exhibition who have either taught or graduated from this institution. One of the earliest Alumni involved in this exhibition, is 96-year-old Carol Rudyard (a student of WAIT in 1968) whose painting Emergence, 1973 was kindly donated by fellow artist, Brian Blanchflower. The most recent Alumni is Leah Chidlow whose work in this exhibition was purchased from last year's Curtin Art Degree Show with support from the Vice-Chancellor, enabling us to reinstate this tradition.
As custodians of The Herbert Mayer Collection of Carrolup Artwork, the John Curtin Gallery is deeply committed to sharing these important Stolen Generations artworks with the Nyungar and broader communities through a range of education programs, tours and exhibitions. Over the past three years many hundreds of people have engaged with the artworks, created by Aboriginal children incarcerated at Carrolup Native Settlement in the late 1940's.  This collection is of immeasurable significance to Nyungar people and we are very pleased that through this outreach, a number of donors have gifted early works by prominent Carrolup children artists Reynold Hart and Barry Loo.  These additions expand our understanding of Stolen Generations, Nyungar identity and cultural resilience and only in recent weeks we have discovered a collection of ten early Carrolup artworks in the US that will also be donated to the Curtin University Art Collection. Contemporary Nyungar artworks have also been targeted for acquisition and Laurel Nannup's touching depiction of life at Pinjarra Reserve, No. 28, 2014 is featured in the exhibition. Alongside, are two significant works by Shane Pickett, Six Seasons Suite, 2005 and Ancestors Before the Journey of the Dreaming, 2008 that beautifully visualise Nyungar spirituality and culture through print and paint. More generally, nearly half of the 50 works in this exhibition are by Indigenous artists, demonstrating the creative excellence and leadership from this sector of our art community.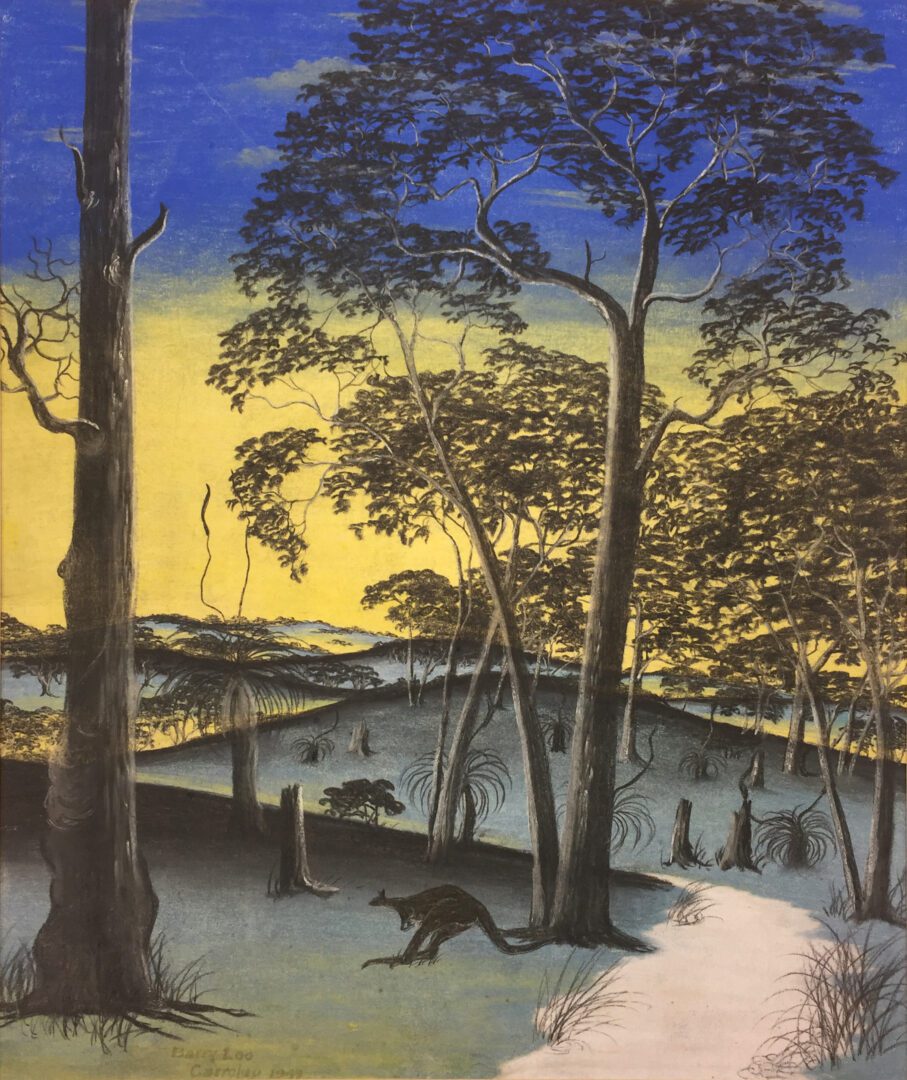 Supporting our acquisition focus has been a motivation to show balance in the representation of gender, and this approach was mirrored in our exhibitions program and was supported by our social media #knowmyname campaign. Significantly, 60% of all artworks purchased through the initiative were created by artists identifying as female or non-binary.
The 50fifty Acquisition Initiative was launched with the acquisition of Brian Blanchflower's magnificent multi-panelled painting Canopy XXII (Time Generator), 1990. The Canopy series, which began in the 1980s, is described by Blanchflower as a personal cosmology. Exploring the sky and space beyond, these works transmit Blanchflower's deeper spiritual motivation, each work "looking upwards, and outwards, yet inwards at the same time."[i] As a counterpoint to Canopy XXII we felt compelled to bookend this successful campaign with the breathtaking work by Lindy Lee, Equanimity (no more struggles in the ocean of 'yes' and 'no'), 2017, a celestial sculpture of mirror finished steel and light that, like the expansive objects that comprise Lee's practice, "embody the intimate connections between human existence and the cosmos".[ii]
These two visionary works, beacons indicating a beginning and an end, are but points along a continuum, which we are fully committed to nurture and extend. This exhibition celebrates a new chapter in our Collection's continuing development. These works allow us to see that art paradoxically, manifests the intangible, evoking, in the words of the Belgian Surrealist painter, Rene Magritte, "the mystery without which the world would not exist." What higher purpose could there be?
[i] Blanchflower, B. 2016, "The Canopies: a cosmic vision", McLean, I. 2016, Brian Blanchflower: Canopies, Exhibition catalogue, ANU Drill Hall Gallery, 2016